Hello once again my readers! I know it's been a while I've posted anything on my blog @_@ I've been absolutely swamped with sooo much work to do. Anyways~ Here's a review on my new lolita wig as well as Gwyshop who sold me the wig.
Disclaimer: This is not a paid review by L-Email or Gwyshop. I bought the wig on my own accord and I was not given any special treatment by either parties. So this is absolutely unbiased as possible. Also I don't own any of the homestuck GIFs. I only own the photos of myself :B
WARNING: EXTREEEEMEEELY LONG POST AHEAD COMBINED WITH HOMESTUCK GIFS! YOU HAVE BEEN WARNED!!!!
I ordered my wig via Gwyshop's Multiply account and through Multiply's shopping cart system which I thought was brilliantly convenient, quick and easy...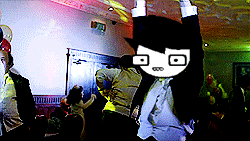 HELL YESSSSS!!! TRANSACTION COMPLETED!!!
Until I found out that it takes 24 hours for Multiply to clear your payments and to wire the payments to the actual sellers and give them the green light to ship yo' stuff. Even if you've paid in full and via the most convenient modes of payment (gcash, paypal, etc.) Multiply will still treat you the same way... SOOOO YEAAAHHH... If you're in a hurry to get your stuff it's better to contact them on their Facebook page. (links at the bottom)
Now on to the actual review! Lemme start with Gwyshop's packaging:
Custom packaging/ paper bag! Environmentally friendly and just SCREAMS cuteness!



The wig was actually sent via their courier (Xend) and was wrapped up in this paperbag which I found really endearing since it shows that the shop owner is really into personalizing and making sure their shop's orders are packed securely rather than outright stuffing it into the plastic shipping bags. What I noticed immediately was the fact that whole package was HEAVY!! And I do mean HEAVY!!!! O_o Is this wig really that massive? OMG!!!!
The wig out of the paper bag >_< there's a tear in the plastic but I've got spare wig bags so it's ok
So one I got the wig out of the paper bag I immediately saw that there was a tear in the plastic wig bag XB it must of torn because of the SHEER BULK of this wig :)) Soooo glad to have that paper bag. It also came with a free wig cap! I soooo need that ><'
Now on to the wig itself:
Stock photo courtesy of Gwyshop :D





First and foremost the wig is repackaged, YES, REPACKAGED by L-Email. L-Email doesn't produce their own wigs compared to Lucaille or Grand Young but rather it's a company that buys off other Taobao factories and repackages these items for their "brand". People often wonder why their wigs have doppelgangers of other brands. The most logical explanation I've come up with is that they share the same suppliers. This also supports the /CGL/ argument that *insert popular lolita wig brand name here* has a taobao supplier that makes their wigs for them. Anyways, moving on to much more important things..




I was actually pretty down before I got this wig so this was pretty much me trying to self-pacify my depression with shopping XD. The stock photos really don't give it ANY justice... and now you will see that neither do I... Hahaha!!!
Right out of the bag, no brushing, just plunked it on the wig head and gawked in delight. Ugly photo is ugleeehhhh
I know it came out really messy but that was before I brushed it and straightened it out a bit. >_< I couldn't really help it since I was really REALLY excited about it. The wig comes in 3 parts, First is the base wig and then two clip-ons, like most cosplay wigs with twintails these wigs are individually provided their own wig nets to avoid frizz and tangling. They're not super shiny but they have a nice alluring sheen to them that I think is just right.
Moving on, I initially I gave it an over-all look-see and noticed a few things.
The wig is smooth and manageable because it's made of Kanekalon fibers. It doesn't tangle as easily as I thought it would, especially since it's a curly wig and I am absolutely HORRIBLE with curly wigs >_<.
See? No Tag! As compared to Lucaille and other wig brands that have tags.
Oh yeah! They also have no brand tag as compared to the other wig brands that I own. :)) Go on and say I'm a conspiracy theorist over wigs XD I don't mind. *wears tinfoil hat*
WTF DOES YOUR LOLITA WIG CONSPIRACY THEORIES HAVE TO DO WITH ANYTHING????!!!!
GET BACK TO REVIEWING THE WIG!!!!
(Forgive the Homestuck gifs you guys >_< I just couldn't help myself!)
So after brushing it out a bit I decided to go on ahead and use my friend Vanessa's wig teasing technique to fluff my wig up instead of going with the usual curled lolita wigs.
Instead of just fluffing up the twintails but also the base wig :B
The Base wig.
Ignore the makeup and the funky shawl... :))
Bad photo is bad agaaaiiinnn...
So movin' on to the base wig. Most base wigs from taobao are really thin and try to compensate for it via the twintails, but with this L-email wig it's nothing like that. The base wig is thick with good, strong hair wefts attached to the lace inside the wig.
The Base wig + the two Twintails 8D
This wig is absolutely MASSSIIIIVEEEEEE after fluffying it up!!! The twintails on their own are also thick and wonderfully stable on their clam-shell clamps that are used to attach themselves to the base wig. They're perfectly stable once clipped on but are really heavy so be warned about them. You can switch up where you position the twintails but personally I like them on the sides, not too up-front and not too far in the back.
Soo yeah, that're pretty much all the info I can give you on this wig :D Now on to the scores!!!
L-email wigs:
Quality: 5/5- Absolutely wonderful and suuuper pretty :B I'll definitely start hording from this company.
Packaging:
4/5
- I think they need to find bigger and stronger wig bags because stuffing a massive wig in such a tiny bag is bound to mess up such a nice product.
Uniqueness: Inconclusive- I can't really give my opinion on this because of the fact they don't make their own wigs but rather they repackage them.
Price: 4/5- For a nice thick wig most lolitas and cosplayer pay an arm and a leg for them. The item is relatively cheap compared to *insert major lolita wig brand here* but I question the possibility of it being cheaper if we find the original company that makes the actual wigs.
Overall: 4.5/5- I absolutely love this wig, aside from the fact that they're just repackaged taobao wigs, I'm pretty happy that I bought an L-Email brand wig :D
Will you be buying an L-Email brand wig again? ABSOLUTELY!
Gwyshop:
Communication: 5/5- Quick to respond and always courteous! They know every detail about the stuff they're selling and aren't afraid of showing it. They're also brutally honest about every detail about the item you're interested in as well as the processes that you go through to get your item. Without their explanation I wouldn't have known about Multiply's 24 hour clearing policy. So kudos for informing me!
Handling: 5/5- From the custom paper bag to the choice of courier as well as the packaging Gwyshop knows how to take care of their customer's items as well as make it look classy even if it's been man-handled via shipping. Extra brownie points for using eco-friendly packaging!
Pricing: 5/5- May it be their contact lenses or their cosplay and lolita wigs you'll be sure to get your money's worth with every item they sell. They also recommend items that you'll absolutely love based on your needs. Do you need bright looking contact lenses of a certain color? They'll recommend something that's within your budget without cheating you out of the quality you need.
Overall: 5/5- This shop's pretty much captured my attention as well as my heart. From their customer service to their items up for sale you'll surely love Gwyshop! You must be thinking, "Oh well, this must be a pretty biased review if she's giving the shop a 5/5" I assure you folks, I am being as brutally honest as I can as I've experienced EVERY KIND of online shop ownerin my 7 years of online shopping on various platforms, from the absolute pushover to the abusive shop owner, I would never back down from giving a brutal review of a bad shop.
And Gwyshop is far from being a bad shop! A new favorite shop in my book!
Will you be buying from Gwyshop again? YES! YOU CAN COUNT ON IT!!!
You can check out Gwyshop and their other items for sale in the following links:
Derp Derp :B